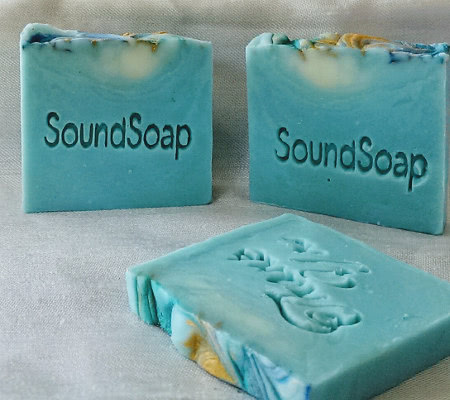 About SoundSoap
Traditional sound soap made in the beautiful Marlborough Sounds of New Zealand
Handcrafted
Use of local ingredients (as far as possible)
Palm-oil free
Environmentally responsible packaging
Our soaps are longlasting, skinloving and ecofriendly
The fats are sourced from animals here in the Sounds, that spend their life on green grass in our pure sea air. Some comes from organic farms (not certified) and we do offer 100% organic tallow soap, usually with infused herbs and essential oils. We render all the fat ourselves.
Tallow is actually one of the best fats for your skin as it is very compatible with our cell biology.
Herbs and flowers used are collected from our own garden in beautiful Picnic Bay in the Kenepuru Sound.
Unlike the harsher soaps that our grandmas made for laundry, our soaps still contain unsaponified oils (the so-called Superfat) to protect your skin - usually about 8% SF.
We use natural colours, micas (same as eye-shadow) and phthalate-free fragrances to create a good smelling and beautiful looking soap. Other ingredients can be coconut-, castor-, olive- and other oils. Some soaps contain yoghurt or sour cream, salt and sugar, plant material, fruit- and vege-purees etc. to create the special properties and look we want to achieve.
We usually have fragrance free soaps - only coloured with natural colours - in stock as well for people with extra sensitive skin. Or you might try our popular Pine Tar Soap.
Never leave handmade soap lying in water. The soap should always be able to dry well between uses.
Contrary to industry made soap that had the glycerine extracted, our soaps won't last forever, but should be good at least for one year, probably for a lot longer. Therefore please use your soap, don't keep it as a decoration – and don't worry, I will make more....
Handmade soaps are different from industrial soaps, because they still contain their natural glycerine. It attracts moisture from the air, so your skin doesn't dry out.
In handmade soap the glycerine remains where it belongs and that is why our soap is so much gentler to your skin.
We cure our soaps for a minimum of 4-6 weeks before they are offered for sale. This improves the hardness, the lather and the mildness of the finished product.
The name soap derives from the Latin word sapo and was likely borrowed from an early Germanic language and actually means "tallow".
Glycerine is produced during the soap making as a by-product. Companies made big business by extracting the glycerine from soap to produce nitro-glycerine and dynamite.
Because commercial soap dries out your skin, they then can also sell you expensive lotions and creams ... containing the glycerine.
Our packaging consists of cellulose bags and cellulose tape. (cellulose is compostable)
Our gift boxes are made from cardboard (most from recycled cardboard).
If we use bubble wrap to safely pack your soaps, it's re-used. We'll never buy new one.
The soap tools that are printed with the 3D printer, are made from PLA (Polylactic acid or polylactide (PLA) is a thermoplastic aliphatic polyester derived from renewable biomass, typically from fermented plant starch such as from corn, cassava, sugarcane or sugar beet pulp. - Wikipedia)
Our soap saver bags are made from milk cotton (derived from casein)
Our Team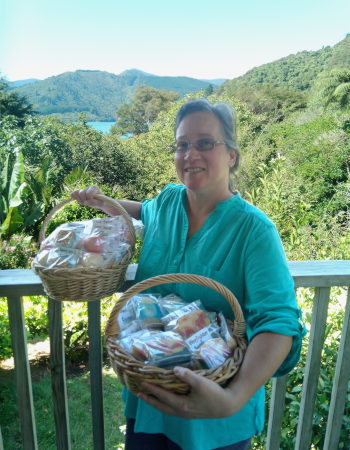 Heike Koester
Soapmaker
She is the herb gatherer and soap alchemist behind the cauldron. Since coming to New Zealand in 1996, acquiring a life-style block with a big garden and fruit trees and some sheep, chickens and ducks, soap-making for self-sufficiency was always on the list, but never realised. With small kids and the garden, preserving, etc there was never enough time. But finally, in 2016 all things came together and voila, the first soap was made. It quickly proved popular with friends and neighbours and as a lovely gift item from the Sounds.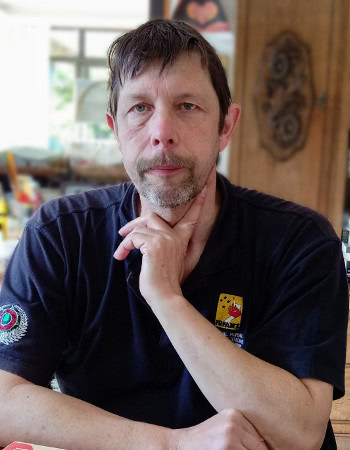 Stefan Schulz
Hubby and tinkerer
He is responsible for providing the necessary equipment like soap moulds, soap cutters and printing soaping tools as well as Heike's soap studio and this webpage. He also makes coffees...
---
We also have most of the information on this web site in print form.